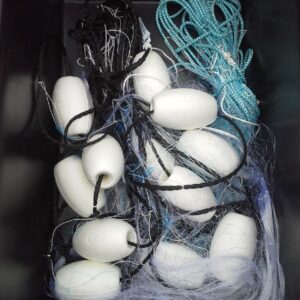 Menhaden/Bunker Gill Nets
Our popular Menhaden or Bunker Gill Net comes rigged with high quality 1-3/4″ Square Monofilament Netting.  
Top: 5/16″ Braided Polypropylene Rope with 

OS-2 floats every 63″

Bottom: 30 lb Leadcore Rope 
These nets are commonly used for catching various species of Shad for bait: including Pogies, Bunker, and Menhaden.  The nets come complete and ready to use!  

Choose from our standard sizes below.  
Custom rigging is available.  Please request a quote for more information.