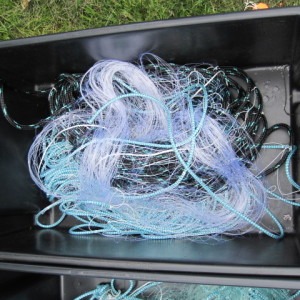 Micro-Mesh Gill Nets
These 100′ long x 6′ deep monofilament micro-mesh gill nets feature small square netting in ultra light twine sizes. These are ideal for smelt and other small forage species. These are used commonly for smelting in the Great Lakes. We use light monofilament netting rigged with 30 lb leadcore rope and 3/8″ foamcore rope.
We stock several sizes including ⅜" sq. .12 mm, ½" sq. .20 mm, and ⅝" sq. .20 mm.
Other nettings as small as ¼" sq. are available upon request.   
Custom rigging is available. Please request a quote for details.